Cameron Smith WDs out of BMW Championship, citing hip injury | Golf News and Tour Information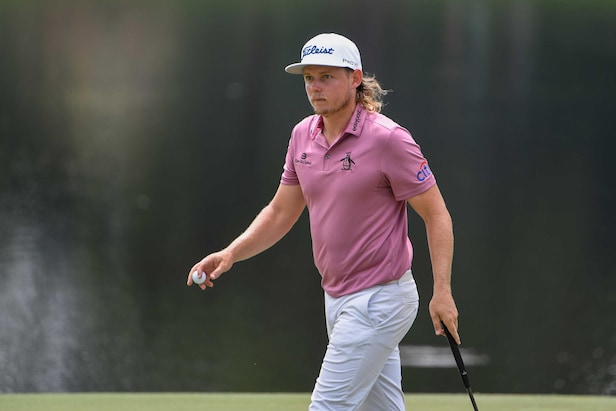 Cameron Smith will spend the week at his home in Florida nursing a lingering hip condition following the Australian's withdrawal from the second event of the FedEx Cup playoffs.
The world No. 2 announced his withdrawal from this week's BMW Championship on Monday through his agent, Bud Martin de Wasserman.
"[Smith] has been suffering for several months with discomfort in and out of the hip and thought it best to rest this week in his pursuit of the FedEx Cup," Martin said in a statement.
Reached by Golf Digest on Monday, Smith said the discomfort started in practice rounds and intensified over the weekend as he played at the FedEx St Jude Championship in Memphis.
"My hip flared up yesterday. It seems to happen when there are softer fairways like there were earlier in the week," Smith said over the phone. "I've had a few MRIs around that, and I'll check with my team to see if we need another one."
Smith's trainer, Nic Catterrall, said it was related to the sciatic nerve around the lower spine and hip.
"Cam has an inflamed sciatic nerve; it's an ongoing problem," said Catterall of Delaware. "We handled it well, but the wet ground in Memphis last week, plus a few more shooting sessions, ignited it to the point that it was worth taking the week off."
Smith plans to throw it at the Tour Championship Finals at East Lake. The 28-year-old is determined to become the first Australian to win the FedEx Cup title.
The BMW's withdrawal comes amid reports that Smith will soon be leaving for LIV Golf, reports Smith has not necessarily put down with multiple denials without denial. Smith was also part of a bizarre rules glitch during last weekend's FedEx St. Jude Championship when he was docked two shots for playing his ball from the wrong place on his turn on Saturday…but didn't. was informed of the matter only Sunday morning. He had arrived at TPC Southwind with a 54-hole score of 11 under par, before PGA Tour rules officials corrected his score to nine under. He shot a 70 in the final round that left him tied for 13th, six shots behind winner Will Zalatoris.
Smith sits third in the FedEx Cup standings thanks to three PGA Tour victories already this season: the Sentry Tournament of Champions, The Players and the St Andrews Open. He also tied for third at the Masters.
With Smith's departure, the BMW Championship field shrunk to 68 players. The top 30 in the FedEx Cup standings will advance to next week's season finale in East Lake for the Tour Championship.