DP World Tour responds to legal threat from LIV Golf players in scathing open letter | Golf News and Tour Information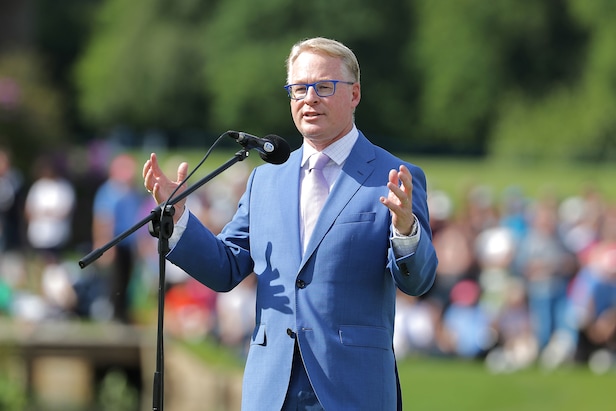 DP World Tour CEO Keith Pelley has hit back at a contingent of European players who defected to LIV Golf after the group threatened legal action against Pelley and the tour.
The defectors sent a letter to Pelley and DP World Tour board members which was leaked to several European outlets earlier this week. In the letter, the group took umbrage at Pelley's decision to suspend those who participated in LIV Golf's inaugural event in London and ridiculed the DP World Tour's joint venture with the PGA Tour, saying the decision made Old World circuit a "second fiddle" for the American tour. The letter was signed by 16 players, including Lee Westwood and Ian Poulter.
In response, Pelley released an open letter which was posted on the DP World Tour website on Friday morning.
"There has been a media leak of a letter we received on behalf of a number of LIV Golf players which contains so many inaccuracies that it cannot go unchallenged," Pelley wrote. "Before joining LIV Golf, players knew there would be consequences if they chose money over competition. Many of them at the time understood and accepted this. Indeed, as the said a player named in the letter in a media interview earlier this year; 'If they ban me, they ban me.' It is not believable that some are now surprised at the action we have taken .
Pelley first addressed the idea that defectors "really care" about the former European Tour. "An analysis of past attendance statistics on our tour over the past few years from several of the key named players suggests otherwise," Pelley replied. While he didn't specifically name any players, Pelley pointed out, "One particular player named in the memo has only played six Rolex Series events in the past five years. Another, only four. I wish many of them had been as eager to play on our tour back then as they seem to be now, based on the fact that they either resigned from their PGA Tour memberships, or, if they are still members, have been suspended indefinitely. "
Pelley also noted that someone from LIV Golf had signed a commitment to play at this week's Irish Open, and that player's appearance at LIV Golf's event in Portland calls into question just how much said player stands for. really care about the DP World Tour.
"With this player currently in action at Pumpkin Ridge, you can imagine the allegation in the letter that we are wrong is difficult to accept," Pelley wrote.
As for the accusation of becoming a "second fiddle" to the PGA Tour, Pelley went on the attack, saying "Nothing could be further from the truth."
"We held a players meeting in Ireland on Tuesday where we detailed all of the many benefits of our expanded relationship with the PGA Tour," Pelley wrote of the enhanced alliance with the PGA Tour. "One of them is an unprecedented ten-card offer for the PGA Tour, cards that many of the players named in this letter wanted desperately to achieve early in their careers. Why now criticize those who try to do the same? thing ? "
Finally, although Pelley said he would not comment on any legal matters, he pointed out that the DP World Tour member rules had been in place for 30 years, that all players had agreed to the rules, and that Pelley and the tour would use to protect the DP World Tour at all costs.
"The penalties for members who knowingly breach our rules while playing at the Centurion Club without release are proportionate, fair and, I believe, considered necessary by the majority of our members," Pelley wrote.