Equipment: unchanged manners | Golf News and Tour Information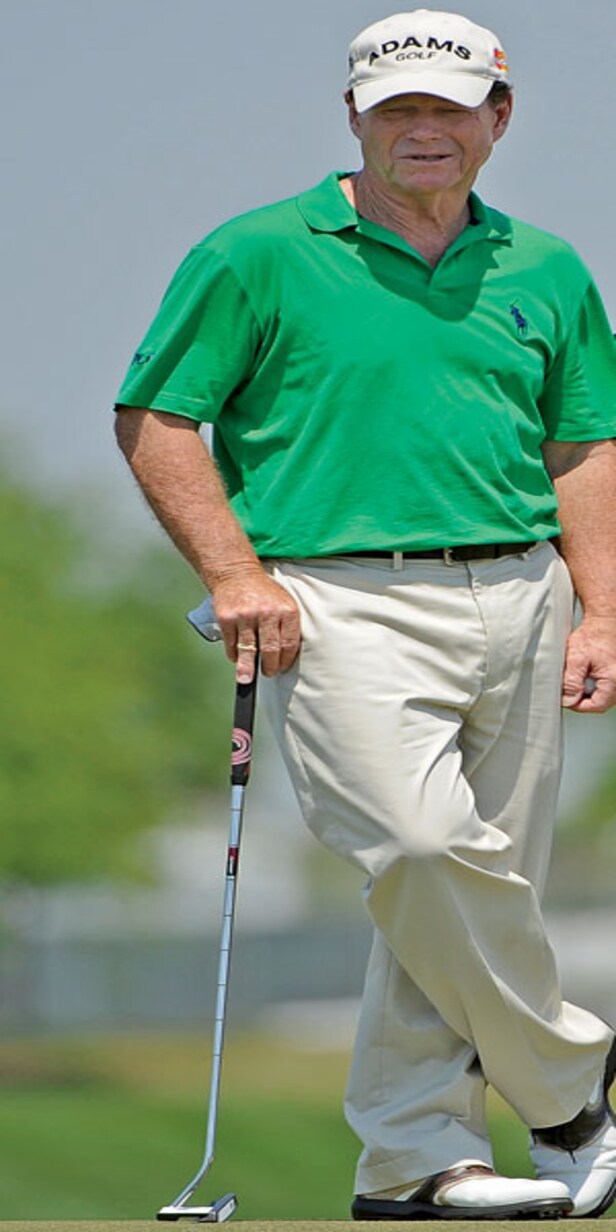 Tom Watson has replaced the Odyssey White Hot XG #7 putter he used at the British Open last year in favor of Odyssey's new Backstryke blade putter.
Modern technology has long been believed to be a major reason why Champions Tour players continue to play at a high level after reaching the age of 50. Without her, many say the senior set would play like, well, the seniors.
Look through the bags of several Liberty Mutual Legends of Golf players, however, and it's obvious that birth certificates aren't the only thing indicating a certain age on the senior circuit. Many used clubs are also past their prime.
Not that the Champions Tour forgoes technology entirely. There are plenty of titanium/composite drivers, high-tech hybrids, and flashy iron sets used. Along with this, however, some sets include clubs rarely seen outside of tag sales and internet auction sites.
Or a "thrift shop" is exactly where Jim Albus bought the set of Callaway Steelhead X-12 irons he used at Legends. Albus found the clubs in Sarasota, Florida in 2004, put some new trees there, and put them in the bag. Yet, if clubs were junk in 2004 (they were first introduced in 1998), then what does a tour pro do using them? "They worked better than anything I had played with, so I went with them," Albus said. "They haven't come out of the bag since."
The Ping Zing 2 irons used by Ed Fiori at Legends are also hard to get out of the game. Again, the clubs hold some sentimental value for the man known as 'The Grip' – they're the same irons as Fiori used to hold off Tiger Woods from winning the 1996 Quad Cities Open.
Albus and Fiori aren't the only players using outdated gear. In fact, if golf's governing bodies ever decide on another gear rollback, some players might barely notice it as they continue to use clubs that may not have the hottest faces, highest moment of inertia or adjustable weights or hosels, but working for them.
Otherwise, how do you explain why Loren Roberts and Joey Sindelar each still use the TaylorMade R510 drivers (Sindelar still occasionally uses his old Tommy Armor 1 iron as well)? Or Hal Sutton using the same Ben Hogan Apex forged irons he had in his hands when he hit his memorable "Be the Good Club Today!" shot on the 18th hole that sewed the 2000 players championship?
But while the old is with some senior players and their irons, it's really all the rage when it comes to fairway woods. Granted, players at almost every tour seem to have a particular affinity for a fairway wood they love. And the Champions Tour landscape is no different with many players using older Callaway Steelhead or TaylorMade 200 Tour fairway woods. Or, if you're Mike Reid, you've got not just a 200 Tour in your bag, but a TaylorMade Burner Tour 15-degree Raylor, a club Reid says he's been playing "since the early 1990s."
According to Reid, finding a backup in case his precious fairway wood breaks wouldn't be a problem. "I have seven copies of the head at home," he said, noting that one was given to him by Craig Stadler and was used at one point by Jim Furyk. "I tried other clubs and found some that were similar, but none that were better."
Which, when you think about it, may be the best reason to hang on to a club.
Andy Bean and Chien-Soon Lu, who finished one stroke in the playoffs, each changed their Callaway formation at Liberty Mutual Legends of Golf. Bean put on a split iron set (X-Forged 4-7 irons and X-Prototype 8-iron PW) while Lu added a 7.5-degree FT Tour driver to Savannah…Tom Watson (above ) placed the Odyssey White Hot XG #7 putter he used at last year's British Open in favor of Odyssey's new Backstryke bladed putter – a model that features a reverse bend shaft inserted on the back of the putter. only two corners. In addition to their pitching wedges, Ben Crenshaw had a 57-degree Wilson Staff wedge; Hubert Green an Adams Puglielli at 56 degrees; and JC Snead a Cleveland CG15 at 55 degrees. In the Raphael division, Ed Fiori (56-degree Ping Eye 2) and Jerry Heard (57-degree TaylorMade TP xFT) also wore just a pair of wedges… Zen Masters: It's hard enough for small businesses putter to get a club in play on the PGA Tour, but at the Zurich Classic, Daito Golf had three pros (Tim Herron, Troy Matteson and Joe Ogilvie) who used his Zen model putters in competition. Matteson and Ogilvie finished T-62 while Herron missed the cut.
Hardly a big change guy, Senior Allen Doyle used a Rife Bimini blade putter at Liberty Mutual Legends of Golf in place of the Scotty Cameron blade he'd used for most of his career. Doyle originally made the switch at the Outback Steakhouse Pro-Am and continued with the Rife putter (which is lighter and has less offset than his old Cameron) at Savannah.