Golf news 2022: Cameron Smith's chilling moment with Scottie Scheffler at the St. Jude Championship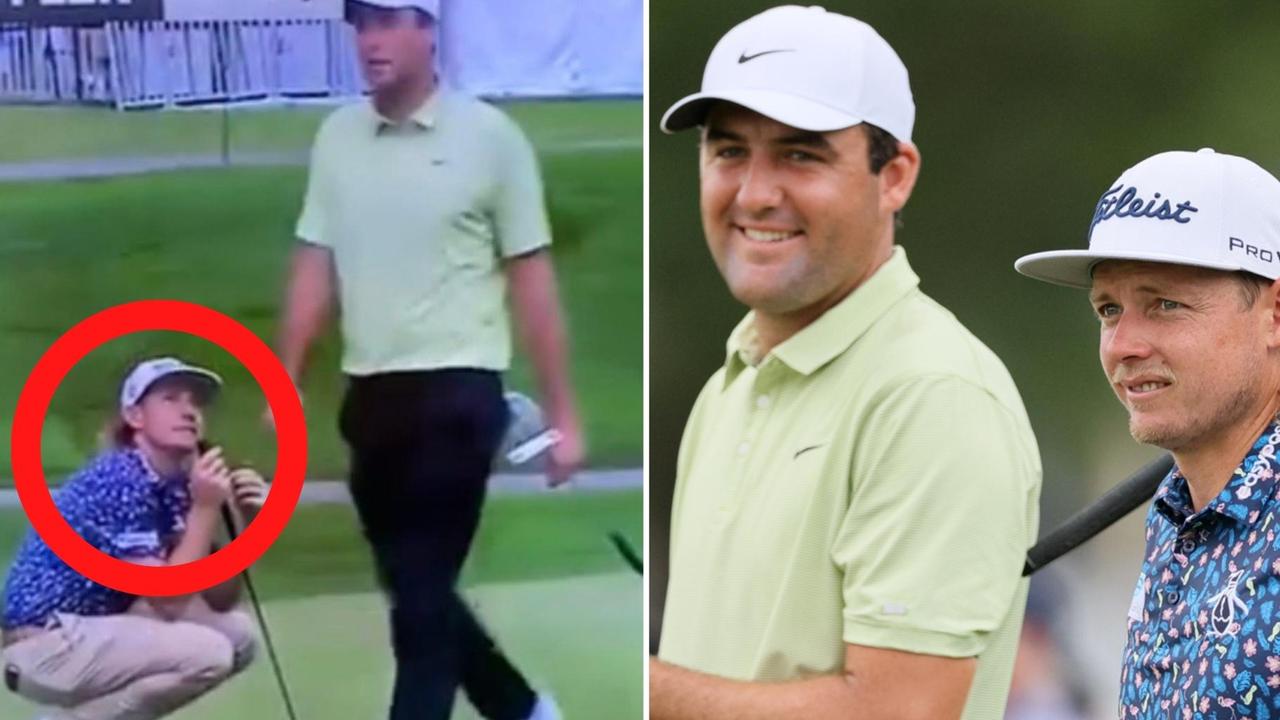 World No. 1 Scottie Scheffler broke one of golf's many unwritten rules on Thursday, and Australian star Cameron Smith was unimpressed.
During the first round of the FedEx St. Jude PGA Tour Championship in Memphis, America, Scheffler walked directly past Smith as he lined up a putt on the 12th green.
Watch live coverage of the USPGA Tour with Fox Sports on Kayo. New to Kayo? Start your free trial now >
The defending Open champion briefly looked up at his rival before refocusing and taking the putt.
Golf etiquette dictates that you never cross someone's line of putt on the green, you always walk around them. Scheffler forgot — or didn't care — and adding intrigue to the moment, there were no obvious, immediate excuses.
But there didn't appear to be any animosity between the pair despite the chilling moment, with Scheffler and Smith trading a high-five after the Aussie hit an eagle on the 13th hole.
Smith has been in the news since reports emerged that the world No. 2 had signed a deal with the controversial Saudi-backed LIV golf series worth more than A$140million.
He would become the highest ranked player to leave the PGA.
Scheffler, who won this year's Masters and finished second at the 2022 US Open, recently spoke out against golfers who joined Greg Norman's rebel league.
"These guys kind of made the decision to go and join another tour and they broke the rules and regulations of our tour and now they're trying to sue us which is definitely a bit frustrating," he said. -he declares.
"I'm definitely surprised to see some guys suing us. If they win, come here and play, that's something for the courts, I can't control what will happen in a court case. Certainly interested but in the end it has no effect on my preparation for the week.
Smith said he was ready to "face the heat" for refusing to comment on reports he had joined the LIV series after a strong opening round of the St Jude Classic.
In a sign interpreted by some as reinforcing Smith's reported defection, the 28-year-old was candid about continuing questioning.
"I'm ready for some heat. I understand that's what I said," he told Sky Sports.
"I'm here to win the FedEx Cup qualifiers, that's my number one goal. Whatever happens after that will come from me.
Smith, who could assume the world No. 1 ranking with a victory in Memphis, depending on where Scheffler finishes, clocked a top-to-bottom 67 opening round, which included an eagle and two bogeys, at five head shots.
Scheffler, meanwhile, opened with a par 71 to one over.
With NCA NewsWire