Historic Oakland Hills Clubhouse Suffers Extensive Fire Damage | Golf News and Tour Information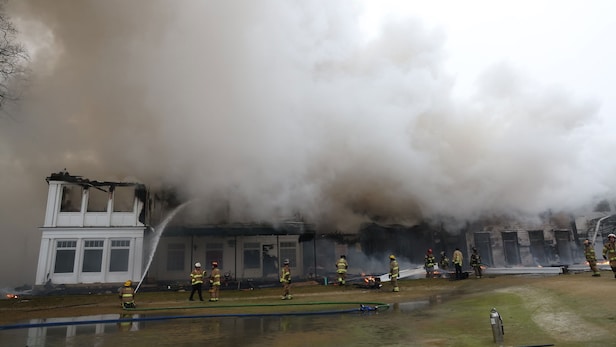 The Oakland Hills Country Club clubhouse, site of more than a dozen major championships, suffered extensive damage after being engulfed in flames on Thursday.
Several film crews caught firefighters battling the blaze at the historic site of Bloomfield Township in Michigan, a suburb of Detroit. MLive.com reported firefighters were dispatched to the club at 9.17am after passers-by smelled smoke in the area. More than a dozen fire departments eventually rushed to the scene, where crews were still battling the blaze until Thursday evening.
Bloomfield Township Fire Chief John LeRoy told MLive.com that the cause of the fire has not been determined and may not be for several days.
The fire appears to have started in the attic of the 110,000 square foot building. Part of the roof eventually collapsed. Renovation work on the pavilion terrace was underway at the time of the fire and no injuries were reported.
The clubhouse, completed in 1922, housed memorabilia from many Oakland Hills majors, as well as artwork and tributes to the state's golfing heritage. The club's website noted that "members are proud of their club's heritage and consider themselves stewards of a national golf treasure".
"It's a heartbreaking day for Oakland Hills," said Rick Palmer, president of Oakland Hills. "While we know that no members or staff were injured, we lost our iconic clubhouse, which housed our history and our place in Michigan and American and international golf. Oakland Hills is extremely grateful to the firefighters who have been diligent in helping to save some of our priceless memories."
It remains to be determined exactly how much was removed from the fire and how much was lost. Reports suggest club members were on the scene, working directly with firefighters to try to identify and secure as much as possible.
"It hurts to see this, but we take comfort in knowing that the heart, soul and legacy of the club resides in our members and staff," Palmer said. "Only time will tell what lies ahead, but we will move forward with a goal of honoring all those who have brought this great building to life with their golf and their work.
Oakland Hills, established in 1916, has two courses designed by Donald Ross. The club's first head professional was 11-time Major winner Walter Hagen. His first major tournament was the 1922 Western Open, won by Mike Brady. Oakland Hills has since hosted six US Opens (only Oakmont and Baltusrol have hosted more), three PGA Championships, two US Amateurs, two US Senior Opens and the Ryder Cup, counting Jack Nicklaus, Ben Hogan, Arnold Palmer and Gary Player among its champions. . Oakland Hills is one of only four courses to host the US Open, PGA Championship, Ryder Cup and US Amateur; the other three are Oak Hill, Scioto and Pinehurst No. 2.
"My first thought is the history of the club," said Andy North, who won the US Open there in 1985. "Buildings can be rebuilt, but you can't rebuild the memories they might have lost. This building is a big part of our golf history with the shows of champions and the championships they've had. They're going to rebuild a great new clubhouse, but they can't rebuild all those things that they've lost. It's incredible."
The South Course reopened in 2021 after a $12 million restoration by Gil Hanse and Jim Wagner in hopes of hosting another major championship. The club have reportedly been pushing to host the 2028 US Open, the next available spot on the USGA schedule. The South was recently ranked No. 21 on the list of America's 100 Greatest Courses.
"This is a truly sad day in American golf history," Hanse said. "Our hearts go out to all of our friends in Oakland Hills."
The USGA also released a statement regarding the fire on Thursday: "Our thoughts are with our friends at Oakland Hills. We have been in contact with their staff and, more importantly, we are relieved to hear that no one has was injured. Along with so many others in the golf community, we have special memories at this legendary venue and look forward to doing more in the years to come. We will support the club wherever possible in this rebuilding process.
The Detroit News reported that the building had an assessed value of $1.179 million or an estimated redemption value of $2.36 million, according to government records.