How Cameron Smith became the Scholar of St. Andrews | Golf News and Tour Information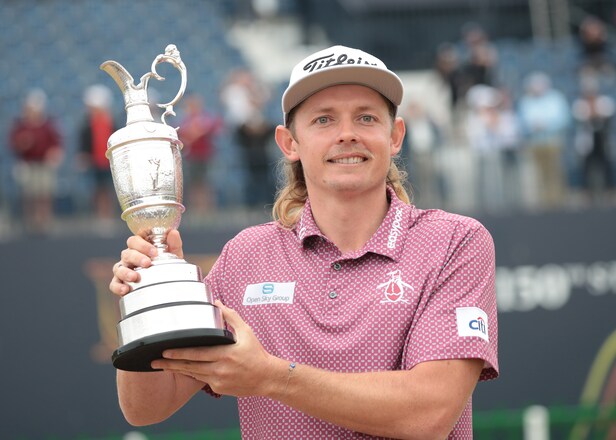 ST. ANDREWS, Scotland – My mission was to write the winner. Really, I'm more comfortable writing the loser, and Alan Shipnuck and I have often split things up that way over the years. But this Sunday, my job was to write the winner. And that winner, of course, would be Rory McIlroy, who I first met when he was 19 and destined for golfing greatness. And the story would be – dare I say it? – easy to write, because, in this moment of chaos in this most traditional game, who defended the age-old traditions of golf more than Rory McIlroy?
You know, the R&A power brokers made him an honorary member of the club this week, along with Scotland's Paul Lawrie and 15 majors' Tiger Woods.
Those same powers gave McIlroy a late Friday afternoon tee time, timed so he could step up the first hole just as Woods went down the 18th, as a sort of symbolic changing of the guard, because if this tournament was about one thing, it was about saying goodbye to Tiger as a serious competitive golfer in major championships.
For three days, McIlroy did everything right on the course with his clubs and everything on the course in his interviews. When not on the course or practice ground, he stayed with his wife, young daughter and parents at the rejuvenated Rusacks Hotel on the 18th fairway.
Well, McIlroy knows how these things work. The guy who is, in quotes, supposed to win, no quotes, doesn't always win. Do you know who wins? The guy who shoots the lowest score over 72 holes. And that man, of course, was Cameron Smith.
"With a score of 268, the gold medal winner and Champion Golfer of the Year is Cameron Smith," said the R&A man, standing in the middle of the 18th green.
A short phrase that will stick with Cam Smith from Australia forever.
With a score of 269, the winner of a big second-place check ($1.4 million) and a guaranteed spot in all majors in 2023, is bearded 25-year-old American Cameron Young, with a fall so violently that it will hurt your back. Stand up and salute if you saw this coming.
Your presumed winner (personal note: never assume you can predict anything), with a score of 270, finished third. If you want to read more about the 36 putts McIlroy took on Sunday, I suggest you click on Alan's story. He writes winners like nobody's business. But on this Sunday, Sunday of the 150th Open, played for the 30th time on the Old Course, he wrote losing. It sounds harsh. Life in the big city. Golf is hard. It can be. Tiger Woods and Tom Weiskopf and Jean van de Velde and Ed Sneed and a thousand other players will tell you.
I covered Cam Smith's Players Championship win in March at TPC Sawgrass, and got to see a good chunk of his weekend play here at the Old Course. Let me share two observations.
The first is that there is not a pretentious bone in his body. That might not seem like a lot, but the level of self-importantness of some sections of the golf population is downright stifling right now. Teachers, broadcasters, writers, caddies, touring pros, course architects, club managers, club designers, club makers and various others act like masters of the universe simply because they have a vaunted position in the game.
Cam Smith, Sunday night, on what the jug of Bordeaux can hold, in terms of liquid:
"I'll guess two cans of beer."
"I'll probably have about 20 jugs of Bordeaux," he says. He quickly added: "To be honest, I'm really tired. It's been a long week.
The second observation is obvious to anyone who watched his Sunday round, and his Thursday and Friday rounds, for that matter: With a wedge or a chipping club or a putter in hand, the man is an absolute scholar. As McIlroy said earlier this week, the Old Course is a tricky course. It wasn't spirited, but it was fast, and there was very little grass under your ball for a greenside shot. Smith was almost like Seve, and almost like Daly, in his ability to gauge speed and line, to negotiate the hundreds of small hills that make the Old Course the Old Course. Those who really, really have the gift, like Seve Ballesteros (the winner here in 1984) and John Daly (the winner here in 1995), can assess the demands of the shot in a nanosecond, even if they can use a whole half – minute to make things more dramatic.
The shot of the tournament could have been Smith's third of 17, the once-notorious par-4 Road Hole. (He plays too short to be really notorious.) Smith was about 15 feet from the Road Hole bunker, left of the green.
His ball was about 60 feet from the hole. He had to go up, down, up and down. Some guys would have tried a path to the all-time instant highlight reel. That is, an open-faced spinning lob wedge almost to the hole. Or a closed-corner bump-and-run that you drive down the first hill.
And then there was the best option, assuming you had the confidence to try it: putt the ball, knowing you could never hit it dead, but also knowing you have a pretty good chance on your putt by, from 15 feet. It takes confidence, intelligence and skill. He took the earthly way. He achieved the 4 that Tom Watson was looking for in 1984 and Jordan Spieth was looking for in 2015.
"He made a very good decision," said Smith's playing partner, the other Cameron. "And he executed it perfectly."
One of the most impressive things Smith did was get his tournament back on track after a lackluster third round. His first two rounds were absurdly good, a 67 followed by a 64. He was the leader by two and in the final duet on Saturday, with Young. He couldn't make a good thing last. Everybody playing any good broke 70 on Saturday. When you consider how short the course was, it was basically a par 68 on Saturday. Smith shot 73. I can't think of a major where a 36-hole leader went south Saturday and came back to win Sunday. In this situation, a bad Saturday run usually dooms your Sunday too.
"You know, he was bored with the round, but it didn't kill his confidence," Smith's caddy Sam Pinfold told me Sunday night. "He's a great putter that had a bad putt. So he just said, 'I hit good, I hit good, I'm not going to have two bad putting days in a row.' And so it was.
With no wind to blow his mullet, Smith circled the Old Course bogey-free and chased McIlroy starting his back nine with five straight birdies. His eight under 64 was the lowest final round score recorded by an Open champion.
When I tried to compliment Pinfold on Smith's spectacular lag putt from the green, his second of 18 shots, the caddy didn't mind. It was straight up a hill, then swooping wildly to the left. The ball came to rest about a foot below the hole.
You can't teach talent like that.
"I don't read putts," Pinfold said. "On the greens, he does everything." Well, that was off the green, but at the Old Course there isn't much difference.
You know how many players walk around a golf course these days, looking at their distance books like travelers in airports looking at their smartphones? Smith is not like that. He integrates things.
Greg Norman, the great Australian golfer, won the Open in 1986 and 1993. Until Sunday, he was the last Australian to win the Open. Smith was born a few weeks after Norman won in 1993. They are both from Queensland. The R&A powers removed Norman from this year's dinner for former champions, due to his role as commissioner of the upstart league, the LIV Golf series. McIlroy is, shamelessly, anti-LIV. If there's a poster man for this position, McIlroy is your man. Smith was asked in the win if he was considering a move to LIV. He got this response:
"I just won the British Open, and you're asking me about it. I think it's not that good.
"I appreciate that," the reporter said in a follow-up, "but the question is still there: are you interested at all?"
"I don't know, man," Smith said. "My team around me is worried about all this. I'm here to win golf tournaments.
Smith has won two big ones this year, the aforementioned players at TPC Sawgrass and now the British Open at the Old Course in midsummer. I asked him to compare the two courses.
"I can't, to be honest," Smith replied. "There are not many similarities. They are two very different golf courses. I think when Sawgrass plays hard and fast it can be similar in some ways. But they are two very different golf courses. I think it takes two completely different golfers to compete on these two golf courses.
And he did. Played twice, won twice. With those two headlines, he'll be the center of conversation for various Lowercase Player of the Year awards. He only needed one of these two titles to be the champion golfer of the year. It's him, just like Rory was in 2014. There's a new name on the old pitcher.