Mulligan and Grohman win national PGA awards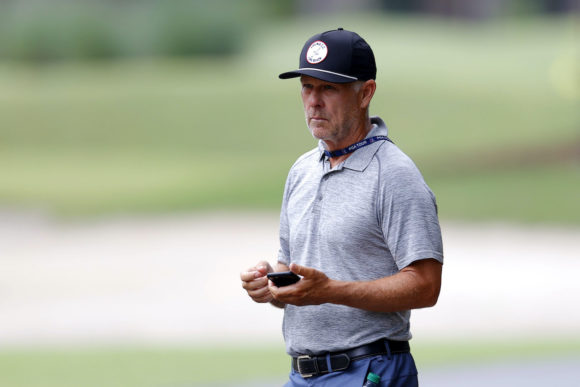 Jamie Mulligan of the Virginia Country Club of Long Beach was named PGA Teacher and Coach of the Year, and Joe Grohman of the Old Ranch Country Club of Seal Beach was selected as a Patriot Award winner by the PGA of America.
Mulligan (pictured) and Grohman, both members of the PGA of Southern California, will receive their awards at the PGA's 106th Annual Meeting in Phoenix, Arizona from November 1-5, 2022.
"We have so many outstanding PGA professionals in our section, and Jamie Mulligan and Joe Grohman exemplify the 'best of the best' in their categories," said Robin Shelton, PGA, Newport Beach Country Club General Manager and Southern California President. PGA. Section.
"They both possess a selfless spirit for the game. Jamie has one of the most caring hearts and a creative approach to learning and training, and Joe cares so much about our military. They represent all that is great about the PGA Professional.
Mulligan, president and CEO of the Virginia Country Club in Long Beach for 20 years, was chosen PGA Teacher and Coach of the Year for his "outstanding service as a golf teacher, innovator and coach."
Regularly featured as one of GOLF Magazine's Top 100 Teachers and also writing for Golf Digest, Mulligan was among the first instructors to study the biomechanics of the swing in the 1980s. His self-developed coaching culture is based on the efficiency of movement, as it recognizes each student's physical and mental abilities and harnesses their attributes to help them reach their full potential.
Mulligan's students include 2021 PGA Tour Player of the Year Patrick Cantlay, LPGA Prominent Golfer Nelly Korda, John Cook, Mo Martin, Amy Alcott, Jessica Korda, Paul Goydos, Kevin Na, Bill Haas , Max Homa and a number of others. great professional stars.
Mulligan developed the "Wheel Concept" to determine which spokes (ingredients, travel, family, preparation, skills, traits, activities) work best for each individual's overall goal. He then helps students create a system to keep their spokes straight.
In addition to being inducted into the SCPGA Hall of Fame in 2012, Mulligan was SCPGA Teacher of the Year in 1999, 2000, 2004, 2010 and 2012, Golf Professional of the Year in 2004-2005 , Metropolitan Golf Professional of the Year in 2002. and winner of the PGA Professional Development Award in 2003-04.
Mulligan is also a member of the Long Beach State Hall of Fame and continues to serve as a consultant for the school's men's and women's golf teams.
Having delivered over 200 coaching seminars at the Chapter, Section and College levels, Mulligan enjoys sharing his wisdom with colleagues while helping to develop the next generation of PGA Members.
Mulligan founded the California Teaching and Coaching Summit in 2015 and remains co-chair of the organization. He also founded the Smooth Swing Golf School and the Jamie Mulligan Junior Golf Camp, reaching over 30,000 golfers of all ages and skill levels.
Along with his leadership at Virginia Country Club, Mulligan helped design many aspects of their world-class practice facility. This includes a six-hole golf course, a world-class chipping green, a separate shag range as well as a 400-yard double-sided driving range, one of the largest in Southern California.
Grohman, the PGA Director of Instruction at Old Ranch Country Club, will receive the 2021 Patriot Award for his patriotism through the game of golf and his demonstration of unwavering commitment and dedication to men and women. who valiantly served and protected the United States of America.
Grohman is a National Coach for PGA HOPE (Helping Our Patriots Everywhere), PGA REACH's flagship military program. In this capacity, he is responsible for delivering PGA HOPE Golf Education Seminars to PGA Members nationwide.
Simulated training sessions are designed to ensure that all PGA HOPE Teaching Professionals provide a safe environment and are comfortable using adaptive equipment while instructing military veterans living with physical or cognitive challenges .
Additionally, Grohman is Director of Host PGA Education at the Old Ranch Golf Practice Center. Eight-time recipient of the Southern California PGA Section Patriot Award (2014-21), he was also honored with the Section's Youth Player Development Award (2017), Bill Strausbaugh Award (2016), Merchandiser of Year (2014), Professional Golf of the Year (2013) and President's Award (2012).
Grohman has also chaired the SCPGA's Diversity and Inclusion Committee since 2009. In 2010, he received the Armed Forces Recreation-Special Citation Award, the U.S. Navy's highest honor for civilian recreation employees. . He was elected to the Long Beach Golf Hall of Fame in 2016.