The humble Corkonian at the forefront of the Golf Fitness movement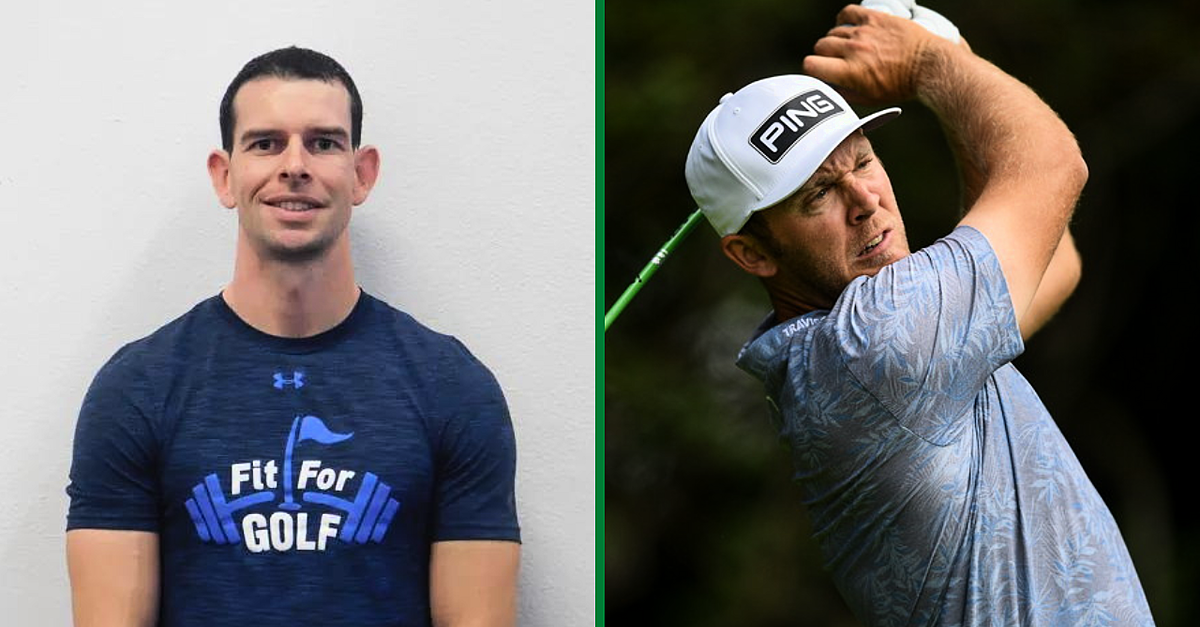 An amateur rugby player would jump at the chance to work with Leinster's strength and conditioning coach. Similarly, a budding young footballer can only dream of training with a Premier League fitness trainer.
If golf is your sport of choice, regardless of your abilities and skill level, being coached by the best is a very real possibility.
Mike Carroll, just a humble boy from Cork, is at the forefront of golf's S&C movement. Trainer of pros – Seamus Power among others -, he offers a service where everyone can benefit from expertise.
Through his app and website, FitForGolf, Mike offers personalized workout programs for those who sign up, as well as free blog posts, a podcast, and exercise videos on his social media pages ( he currently has 109,000 followers on Instagram and 62.5,000 on Twitter).
We've come to associate S&C with adding size and bulk, but when you apply it to specific sports with specific skills, it becomes so much more. Combined with advances in data analytics and the rise of wearable technology, golf is undergoing a revolution, and while unknown to many fans of the sport, Carroll and the work he does must be considered an integral part. of this one.
Fit for golf fundamentals

This program is designed for those new to training or those who haven't worked out for a while. You can do it

3 training sessions of 30 to 40 minutes per week

Easy to do at home with bands and/or dumbbells

The App – https://t.co/yWkyCSK0lA pic.twitter.com/bWEG565A4V

– Fit For Golf – Mike Carroll 🏋🏻‍♂️🏌️‍♂️ (@Fit_For_Golf) September 17, 2022
Beginnings
"Like a lot of people in Ireland, I was in a rather sporty family," says Mike Carroll. "A lot of GAA, football. I did a bit of cross country in high school and also learned golf in early high school."
After being inspired by his brother to enroll in the Sport and Exercise Science degree at UL and working weekends at Fitness Works Cork, Mike gradually began to find his calling.
"I also started training in the gym, I was just interested in it. I could see quite quickly that I was interested in the transfer he had to the sport. So I noticed after a few months of lifting weights in the gym, I was hitting the golf ball a lot further and being a bit more powerful on the football field.
"While I was learning at university, I also started training to create programs for the general public and people who were interested in different sports. And then, towards the end of the university degree, I kind of got the idea that there's a big gap in golf here in that no one really does it. At least I didn't know anyone who was doing good quality physical preparation for golf.
A natural progression for Mike was to get his TPI qualification. The program, run by golf equipment powerhouse Titleist, has been followed by the majority of golf's top fitness professionals, and its website claims that "18 of the last 20 major championships have been won by players advised by a TPI certified expert".
During the course, which took place at the Belfry, Mike first met future Seamus Power caddy Simon Keelan.
California
TPI certification opened up a whole new world for him, and a youthful ambition and adventurous nature would bring him to California, soon after finishing UL.
"I finished college in 2014, then in 2016 I saw a job posting on the internet for a TPI certified strength and conditioning coach to work with golfers in Irvine, CA.
"I was in my early twenties, single, had no real ties to the house, so I thought it was a great opportunity to work full-time with golfers. I got in touch with the job posting which was through a place called Hansen Fitness for Golf, which was a small studio in Irvine, and which is very close to where I still am.
"I did some interviews with the boss there, his name is Mike Hansen, and he was able to apply for a visa to sponsor me and come and work for him. It was October 2016 when I moved. "
FitForGolf then began to take shape. With a growing need to earn a little extra cash and keep up with California's high cost of living, Mike began to attract subscribers while developing the website and app.
With his experience at Hansen Fitness and his portfolio at FitForGolf, he was able to apply for a green card in 2021 and go freelance, making FitForGolf his full-time job.
🔹I design very good training programs for golfers.

🔹I make them available through the Fit For Golf app at a very low cost.

🔹Followers see huge 📈 in golf, health and fitness.

🔹I take customer satisfaction very seriously.

Sign up here: https://t.co/Q2mvajlFlu pic.twitter.com/AjBl9yBpEP

– Fit For Golf – Mike Carroll 🏋🏻‍♂️🏌️‍♂️ (@Fit_For_Golf) April 16, 2021
Work with the pros
In the meantime, he had started hanging out with some of the pros and started working with Charles Howell III in 2020, who had discovered Mike through his online content and videos.
Current world number. 78 Mackenzie Hughes copied Howell III enlisting the help of the Corkonian, before his most prestigious client, Seamus Power, followed suit.
"I think it was about three or four months later. My friend Simon [Keelan] had started caddying for Seamus, and I think Seamus had expressed an interest in maybe changing his physical training and maybe finding a new trainer.
"And Simon suggested he talk to me, that I had worked with a few different players on the PGA Tour. I was probably dealing with four or five at this point. And Seamus just one day sent a message basically and asked if we could have a chat. I think it was around summer 2020.
"I was really trying to help him with his physical training programs, to help him get through his elbow surgery. Try to make him a bit stronger and more mobile there so he doesn't have of throbbing pain for it, and basically just making sure he's in the best possible shape to withstand the rigors of a PGA Tour season.
"And then most of the guys who come into contact are also interested in increasing their clubhead speed so they can hit the ball a little farther and hopefully have a ripple effect on scoring. lower."
Power, who currently sits at No. 41 in the world rankings, has risen from a modest 459th in April 2021 to a career-high 36th in June this year.
While Mike takes no credit for Power's phenomenal rise, we know that the margins at the highest level of golf are the size of an atom, and so every change in his game and preparation has a considerable impact.
Mike explains how he sees his professional clients 2-4 times a year in person and can participate in tournaments for 3-4 training sessions during the week. The rest of the contact is online and via text, and he is currently working on an off-season training plan with Power.
big hitters
Distance. It is a topic of great interest in the golf sphere and has aroused both delight and awe and skepticism.
While we can't help but be sucked in by Bryson DeChambeau turning monstrous par-fives into practice holes and half-corners, there's concern the courses won't be able to accommodate the distance. constantly increasing average driving.
Mike's knowledge and insight does nothing to dispel feelings of joy/admiration or skepticism.
He talks about Mark Broadie, the inventor of the Strokes Gained Data Analytics system, which is used by the PGA Tour. The system showed that those who scored high in strokes won off the tee were the most successful.
https://www.youtube.com/watch?v=SQA3fXwe6o4
The number of golfers on the PGA Tour who average over 300 yards is growing, while those languishing below 290 will continue to be left behind.
Ryder Cup captain Luke Donald, once the world No. 1 and aged just 44, finds himself ranked 566th in the world with an average driving distance of just 286.5.
Matt Fitzpatrick was once a notoriously short hitter, who scoffed at DeChambeau's pursuit of power. He then saw the light and worked tirelessly on his speed and swing distance which led to him winning the 2022 US Open.
Young golfers are taught to increase their ball and clubhead speed, above other attributes such as their accuracy and approach game.
The result is that players fresh out of college, and some still in college, hit the ball much longer than in the past, and this leads to greater success on the PGA Tour at a younger age.
One name mentioned by Mike is Chris Gotterup. Fresh out of college, Gotterup talks about bending two irons with his clubhead speed, while his ball speed can reach over 200 mph (Cameron Champ, the PGA Tour leader in this area, has a speed high ball speed of 194 mph this season)
Another interesting point that Mike brings up is the rise of golf. Prodigious young athletes who might once have chosen a different, more glamorous sport are now opting for sticks.
"Golf is now much cooler and more popular. So athletes who would have once chosen basketball or football or baseball or something like that when they were teenagers might now decide that I want to play golf. So the group of athletes who are going to enter the American university system are going to be much more athletic.
"So those who end up succeeding in college and on tour, they're going to have massive raw material that gives them the tools they need to compete."
SEE ALSO: Shane Lowry talks about his friendship with Rory McIlroy