Theragun Prime Mini Review Could It Help Your Golf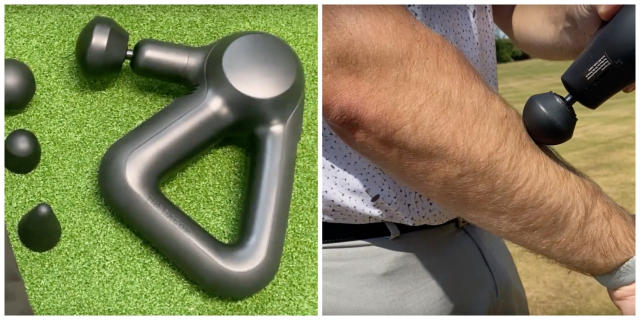 Golfshake's resident equipment expert, Ryan Rastall, tests the Theragun Prime and Theragun Mini, described by Therabody Company as "the massage reimagined." So how does this compare for golf?
Both products feature intelligent percussive therapy and provide your own personal massage and are intended for multi-sport and multi-activity use, including golf, whether for warm-up, treatment or recovery.
The Theragun Prime connects through the Therabody app on your smartphone and provides access to their uniquely developed programs offering a range of scenarios for a variety of activities and uses. Programs allow the Theragun Primce to adapt based on the application program selected, providing a range of speeds, depths, and durations for individual needs.
Ryan tested the products for several weeks using both products as part of his daily lifestyle, which included both golf and non-golf activities, as well as on and off the course. Watch the video below for a full look at the Theragun Prime and Theragun Mini and find out what Ryan thought of them.
---
Theragun Prime
The Theragun Prime provides deep muscle treatment with the goal of relieving discomfort, soothing tightness and tension, and improving recovery. Using the app gives access to the range of programs designed to provide specific tailored guided use. Key features include:
Ergonomic multi-grip
QX65 motor with QuietForce Technology™
Total battery life of 120 minutes
4 easy-to-clean accessories
Smart app integration with Bluetooth®
Customizable speed range – 5 speed settings; 1,750 – 2,400 percussions per minute
MSRP: £275
Theragun mini
Designed to be super portable and used on the go. The Theragun mini is pocket-sized, so perfect for storing in your golf bag. Key features include:
QX35 motor with QuietForce Technology™
Total battery life of 150 minutes
Compact and portable design
3 speed settings – 1750, 2100 or 2400 percussions per minute
MSRP: £175
For more information visit: www.therabody.com