WM Phoenix Open produces one champion, but two winners | Golf News and Tour Information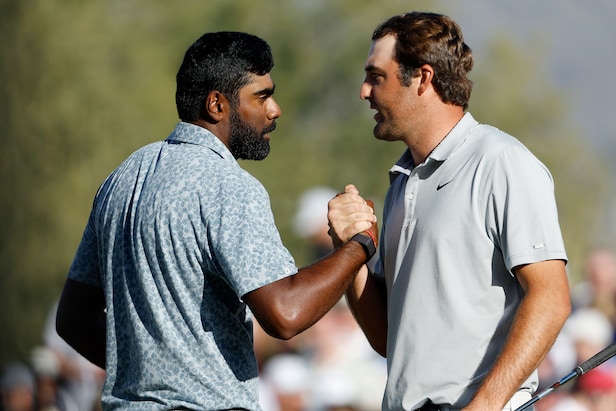 SCOTTSDALE — Sahith Theegala's eyes bulged as he dragged his ball screaming through the thin desert air. He had escaped the cauldron of adrenaline and beer-throwing on the 16th hole of TPC Scottsdale's madhouse with a dry shirt and a par, his focus now solely on winning a truly eventful golf tournament.
The par-4 driveable 17th is used to deciding the WM Phoenix Open – Brooks Koepka's chip-in eagle last year catapulted him to the title – and Theegala thought he had delivered the decisive blow. His red hybrid chipped left to right towards the thin track in the center of the green. A perfect line. He would go up the center, he would make two putts for a birdie, by the last one, win his first PGA Tour event ahead of his parents, five uncles, six aunts and four cousins.
"I think I got a good shot," he said. "It was sharp."
Until that damn ball did the one thing it couldn't do: it kicked left. Hard left and sunk into the water hazard that hides to the left of the green. A cruel reminder that golf is played on imperfect surfaces.
"I still have no idea what that rebound was," said his caddy, Carl Smith, with a shocked expression on his face.
Theegala, a distinctly unjaded 24-year-old rookie with an easy smile and Hall of Fame strut, failed to get up and down and failed to get into a playoff with Scottie Scheffler and Patrick Cantlay. He did, however, manage to capture the adoration of the nearly 800,000 fans who turned out for the party this week and the millions more watching on television. (At least until the playoffs bleed into the Super Bowl.) He slept in the lead three nights in a row and refused to give up his spot on a star-studded leaderboard, even holding a three-shot lead for a brief time. on the front nine.
His inability to find fairways in the stretch strained his short game, but he handled it beautifully, going up and down from the left bunker at the par-5 15th to regain some of the lead. He had every chance of winning this tournament until the golf gods forsook him. After his last-ditch birdie chip at 18 passed the holeshot, fans serenaded him with THEE-GA-LA, and he lifted his putter to show the love was mutual. He blinked back tears after the round, tears not of sadness but of pure emotion; it is perhaps the most exhausting non-major in golf, and it has played a starring role throughout its entirety.
"I loved it," he said of the chaos. "That was great. I think from now on everything else feels a little easier to focus and focus on. I'm definitely going to miss some of the loud cheering. I'm definitely going to miss it. But yeah, if we could focus this week i think the rest of the weeks are going to feel a bit easier…definitely proud of how i played this week.
"It's great that they feel like I'm someone they can support. Yes, that means a lot to me, and I hope I can continue to be someone they can support. 'to lean on.
Theegala does not hide his emotions; he plays with the joy of a child who genuinely wants to make his fans proud. He still lives with his parents in Orange County, and he's driven to and from events on the West Coast in his not-so-new Volkswagen. The big boys will fly to Los Angeles for the Genesis Invitational in private jets; he will drive 5:30. Charming relatability won't last; his golf game won't let him. It's too good, it's always been too good – he won the Junior Worlds as a 6-year-old and won National Player of the Year awards in his COVID-shortened fifth-year senior season at Pepperdine. He has several millions, a new car, a new house in his future. But for now, it's downright endearing and hugely refreshing in a time when so much conversation, at least around the top tier of the men's game, is about money. A star was born this week, even if he didn't walk away with the trophy.
Scottie Scheffler has earned this privilege. At the start of the day, Scheffler held the unofficial title of best player without a win on the PGA Tour – the 25-year-old had four finalists, four major top 10s, a 59 and a Ryder Cup singles beater against Jon Rahm under his belt, but no wins. You sensed the drought would continue after he played his first 12 holes at par to fall way off the pace, but he rallied with a four-birding streak in five holes and, after Cantlay missed a 10-footer for a birdie in the front group, the Texas graduate found himself with a five-footer on the 72nd hole for the W. He never had a chance.
"I didn't hit a bad putt," he insisted. "It wasn't great coming off the face, but I think I just hit it on the break. I think there was a bit of excitement, whatever it was.
"If you had told me on the 13th tee that I was going to be in the playoffs, I would have been thrilled. I felt a bit left out at that point, so to finish with four birdies to make the playoffs was quite pleasant.
After a quick hug from his wife and a professional chat with new caddy Ted Scott, who looped for Bubba Watson for his two Masters wins, Scheffler returned to the 18th tee to face the defending FedEx Cup champion.
The two split the fairway and both hit disappointing corners on the first playoff hole. Leave. Both missed the fairway and hit great chips for up-and-down par saves on the second playoff hole. Cantlay held on to the advantage on the third hole of the playoffs after his approach nestled 10 feet closer than his opponent. Scheffler then hit the putt of his life, a 26-footer that came dangerously close to running out of energy but managed to crawl over the front edge. Cantlay, who didn't bogey in 21 holes on Sunday, couldn't answer.
"I've had a few putts on this green now," Scheffler said. "I started to get the hang of it. Teddy and I had a good read on this one. There's a little flat there that does something weird to the putts; it kind of keeps them straight. Patrick missed his two putts just right in the postseason, and that's where I missed mine to win in regulation.
"It's amazing. There are so many people I have to thank right now. I won't be thanking anyone other than my family and [coach] Excited [Smith] because I will forget half the people. I'm just really grateful.
Ditto for Theegala, even if the end of the tale is yet to come.